From April 21 until September 15, watch lovers will be able to view one of the most unusual and rare watch collection of gunmetal watches made of burnished steel. The 200 timepieces to be on display at the Forbes Galleries (62 Fifth Avenue, NYC) were all made between 1850 and 1910, and each is unique in its style and technique.
First in the 1800s was the production of laminated iron, with large quantities produced beginning in 1845 – to use in the building of railways, bridges and buildings. However, as the price of steel fell, it replaced iron in almost all industrial applications – ranging from the Brooklyn Bridge in 1885 and the Eiffel Tower in 1889 on to a host of other uses – including timepieces. Gun metal watches appeared shortly after the war of 1870 and sparked an era of utilitarian, affordable timepieces.
For years, Francois-Paul Journe – renowned watchmaker of today and also a passionate collector – sought out these historical timepieces. Some feature pained enamel dials, often depicting ships, trains or other mechanical devices. Some house chronograph movements, alarms or world time indications – all a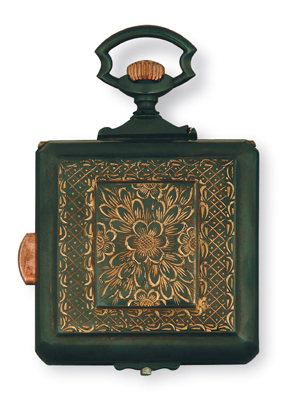 Keyless quarter-repeating watch in a square gunmetal case with gold inlaid Toledo type decoration,testament to the world of fine watchmaking. Now, Journe brings his collection to the fore front for avid loves of gun metal and timepieces.
F.P. Journe also has built a steel cased Sonnerie Souveraine chiming watch that offers clear and commanding sound – this watch can be viewed at the FP Journe boutique at 721 Madison Avenue, where one can also purchase a signed copy of the new book, Steel Time, that showcases a host of gun metal watches and traces the history and origins of this genre.
The Forbes Galleries exhibition will be open Monday through Saturday, 10 am to 4 pm, from April 15 to September 15, 2012.