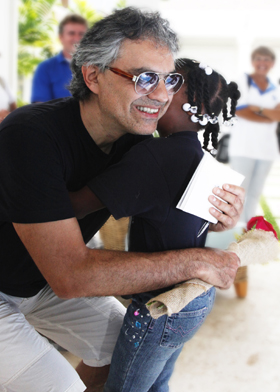 This Friday night, if you are looking for a great time in LA, attend a gala event at the Beverly Hilton featuring the world's highest selling solo artist in classical music, Andrea Bocelli, as he launches the Andrea Bocelli Foundation. The Benefit Gala on December 9 features a special performance by Bocelli, as well as David foster, Heather Headley and Anna Maria Martinez.
Girard-Perregaux, iconic luxury Swiss watch brand, has partnered with Bocelli in the launch of the new foundation. "His accomplishments as an artist and philanthropist are an inspiration to all of us and we are happy to support him in this new pursuit," says CEO of Sowind Group (Girard-Perregaux and JeanRichard) Michele Sofisti.
Says Andrea Bocelli. "Every human being has the right to be happy, fulfilled and to live a flourishing and meaningful life. I want to help those who face barriers in achieving their life's potential".