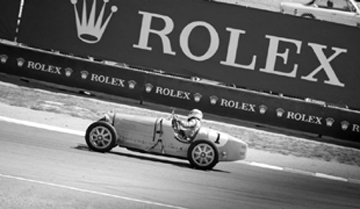 Start your engines and mark your calendars! The week of August 19, if you are a car and watch lover (and you know you are or you wouldn't be here right now), you are going to want to be in Monterey and Pebble Beach, CA, for the Rolex Monterey Motorsports Reunion – a week of celebration with vintage car shows and racing. I'll be there sharing the news with you if you can't make it – but this is one time you'll want to go.
The California Monterey peninsula alone is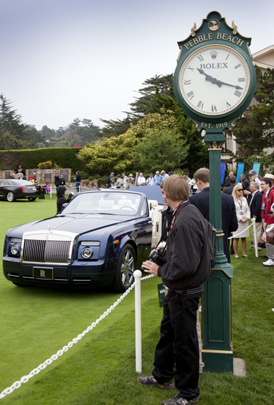 spectacular—offering wonderful coastal scenery, and for this week in August the area is transformed into a hub of auto excellence for the Monterey Classic Car Week. Beginning on Friday 19 August, one can catch vintage cars from all eras running on the famous Mazda Raceway Laguna Seca in the Rolex Monterey Motorsports Reunion. With more than 600 cars participating from all reaches of the globe, the Reunion brings vintage car racing to life over four full days at the track. (The day before, on Thursday, Rolex presents the Pebble Beach Tour d'Elegance – a tour of the beautiful coast by participating cars.)
The weekend culminates with the Pebble Beach Concours d'Elegance, an exhibition of some the world's finest show cars. The famed Concours judges automobiles and motorcycles for their historical accuracy, technical merit, style and elegance – with the aim to recognize and encourage proper preservation of the world's great automobiles. This highly competitive event, with about 200 of the world's most rare and beautiful cars, is held at a resort as famous for its beauty as it is for its refinement: The Lodge at Pebble Beach on the famed 18th fairway of Pebble Beach Golf Links, also known as "the best finishing hole in golf."
Rolex has been integrally involved in motor sports for decades. In 1965, Rolex added the name Daytona to the dial of its Cosmograph line in tribute to this great race at the International Speedway, where it was involved in racing. Ever since then, the presence of the Rolex brand in automobile racing has grown steadily. Rolex has been the title sponsor of the Rolex 24 At Daytona in North America since 1992 and has been the Official Timekeeper for 24 Hours of Le Mans since 2001.