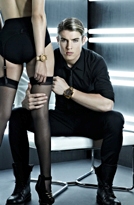 A modern and edgy new brand, JBW Timepieces offers new men's and women's collections crafted in stainless steel, leather, rubber or ceramic with Swiss movements and diamonds. According to the brand's literature and marketing stance, luxury can also convey raw attitude and daring edge. This concept is carried though in the brand's catalog, advertising and marketing via some sexy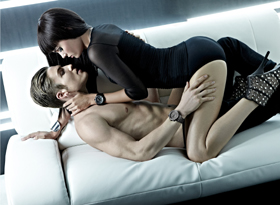 shots of men and women together, as well as some solo shots of each wearing JBW watches.
The message: wear this watch and you'll look like this or enjoy this activity. Will you? Well, I must say that the watches are steamy, sexy and boldly fun to wear. Among the more powerful looks is the G4 jet-inspired watch with an unusual dial that is meant to resemble the cockpit of the gulfstream
G4 jet. The 52mm watch offers three time zones and a great case/bezel design that sports a few diamonds innovatively placed. The caseback of the watch is engraved with a world map. Other collections include a dynamite digital piece

called the DMC-12 and some cool ceramic watches. The collections retails from about $300 to $700. This is a brand well worth the look at.