Please join Atimelyperspective this Saturday night at the newest adventure of Audemars Piguet in New York City. On Saturday, May 7, beginning at 8 pm, the brand sponsors its first-ever evening of light and projection art at Old St. Patrick's Cathedral (the country's oldest cathedral) on Mulberry Street in New York City. As the official sponsor of Flash:Light (www.flashlightnyc.org), Audemars Piguet will transform the façade of the cathedral into a larger-than-life open-worked timepiece- showcasing signature AP movements.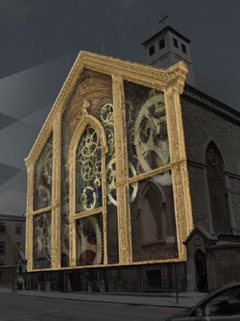 As AP's first foray into the art world, the event is open to the public and free of charge. The video animation is a featured project of the New Museum's Festival of Ideas for the New City. The evening's highlight will be the world premiere of a fully animated light installation by multi-media artist Jeff Grantz. The front of St. Patrick's Old Cathedral will become a temporary transparent timepiece. This exciting 3-D projection is the result of collaborations between Grantz, the Monsignor of the New York Archdiocese and Audemars Piguet.
The Festival of Ideas for the New City, May 4-8, 2011, is a major new collaborative initiative in New York involving scores of Downtown organizations working together to harness the power of the creative community to imagine the future city and explore ideas that will shape it. The Festival will include a
three-day slate of symposia; an innovative StreetFest along the Bowery; and over eighty independent projects and public events. For more information, visit www.festivalofideasnyc.com.