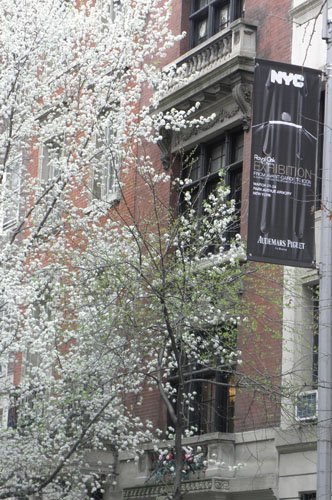 On Wednesday night at the New York City Armory,
Audemars Piguet
hosted a black-tie gala to celebrate the 40th anniversary of the Royal Oak, kicking off a free four-day exhibition that is open to the public. Traveling next to Milan, Paris, Beijing, Singapore and Dubai, it is a journey through four decades of the iconic sports watch.
WORLDTEMPUS – 23 March 2012
Roberta Naas
 Deftly blending history with art and culture, Audemars Piguet set up one of the most superb exhibitions on time and art to be seen in a long while in the U.S.A. The exhibit begins with the Royal Oak's daring entry into the world of luxury watches as a bold luxury sports steel watch in 1972, and showcases a selection of the most important Royal Oak watches in history. In fact, the 100 Royal Oaks on display include the very first one – designed overnight by Gérald Genta – as well as Genta's own personal Royal Oak.
Audemars Piguet brought in watchmakers, equipment to demonstrate the making of the tapisserie dials for the Royal Oak, and built a display in homage to the legendary Genta including a complete display explaining him and his genius. Additionally, to underscore the brand's commitment to independence, art and innovation, Audemars Piguet brought together extraordinary artists to participate in the creation of the exhibition. Photography, art, sound and film from three 21st-century artists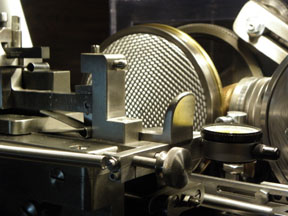 came together in an exceptional backdrop for the display of watches and watchmaking.
"Our goal is to give consumers a real insight into the craftsmanship of our watches and watchmaking," said CEO Philippe Merk. "And to showcase a journey across the history of the Royal Oak and the ingenuity of our brand – the fact that we think out of the box in all we do."
Along the sidelines were crisp and alluring photographs of the Vallée de Joux, Switzerland, taken by Dan Holdsworth depicting the forests, the night sky and more. Artist Sebastien Leon Agneessens created a forest of organ pipes in sculptural beauty to outline the exhibition – which was designed to reflect a massive metallic rock split into six pieces, each showcasing a different part of the exhibition (the watchmaking station, a video station with films of the crafts of watchmaking, watch displays, and more). A huge visual
film was designed by London-based visual artist Quayola that focuses on "The Thinker," as it morphs from an actual statue into crystals and back into the statue – a continuous transformation of matter that is meant to reflect perfection, beauty and precision – all attributes Audemars Piguet holds dear.
Article reprinted as seen on WorldTempus.com today.