By Samantha Walsh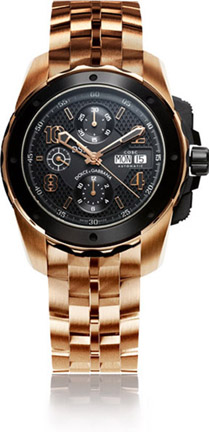 Seen now for the first time, Atimelyperspective unveils the new Dolce &Gabbana luxury designer watch brand. Released here, the new Dolce & Gabbana line of high-end watches for men offers vintage looks, as well as sporty or classically elegant styles, with some pieces event featuring precious gems on the dials. For those men who love a designer name and look – this one may be yours.
The line was designed by Domenico Dolce and Stefano Gabbana in Italy, but the watches are made in Switzerland. The collection consists of 18-karat gold timepieces with PVD treatments for a variety of colors. Timepieces are offered with either a bracelet or strap, and consistently deliver the Dolce & Gabbana dynamic Italian style. Watches include a COSC-certified chronometer chronograph, called the DS5, as well as gemset versions (DG7Gems) and classically elegant strap models
reminiscent of the 1950's (called DG7). They will be sold in selected Dolce & Gabbana boutiques beginning this month. The collection is composed of 52 watches in total – with price points ranging from $3,000 to $150,000.