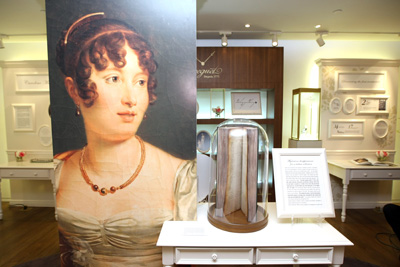 The Swatch Group-owned brand celebrates the 200th anniversary of the marque's first wristwatch, completed in 1812. Festivities include a world tour of historic memorabilia, a look at the Reine de Naples collection inspired by the original and a finale expected in September.
Portions as seen on WORLDTEMPUS – 5 May 2012 –
Roberta Naas

This year marks the 200th anniversary of Breguet's first wristwatch for ladies – a repeater ordered in 1810 and delivered in April 1812. The watch was, naturally, ordered by the Queen of Naples, Caroline Murat (sister of Napoleon Bonaparte), who commissioned Abraham-Louis Breguet to create the first timepiece to fit around her wrist.
Breguet's archives refer to the order as, "A thin, oblong repeater watch with a silver dial and Arabic numerals, mounted on a wristlet of hair woven with gold threads." The innovative historical piece, No. 2639, was last known to be in the hands of the queen's daughter in 1849. Unfortunately, it has since disappeared.
Ten years ago, to honor that timepiece and Breguet's visionary thinking, the brand released the tribute watch collection Reine de Naples. Today, as the brand celebrates the tenth anniversary of this line and the 200th anniversary of its beginnings, a host of events tour the world. The first such event kicked off in New York City at the brand's Fifth Avenue boutique last week with a cocktail reception hosted by the Young New Yorkers for the Philharmonic. On hand to toast the festivities were Alan Gilbert, music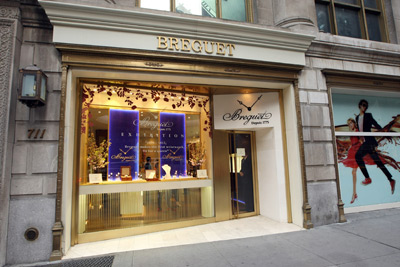 director of the New York Philharmonic, and Joshua Bell, Grammy Award-winning violinist.
The Breguet watch company is paying tribute to the Queen of Naples through an incomparable exhibition called "1810-1812 Breguet Makes the First Wristwatch, Fit for a Queen." This exhibit was launched in Geneva, and Breguet is sending it on a world tour – with New York being the first stop. The exhibition cites Breguet's historic work for the Queen of Naples and highlights ten years making the Reine de Naples flagship ladies collection. Among the pieces on display in the New York exhibition are the stunning Charleston Reine de Naples, the beautiful ribbon-and-bow Reine de Naples and even the floral cameo piece.
The exhibit will be open at the Breguet Boutique on Fifth Avenue in New York City from April 25 through May 13 – coinciding with Madison Avenue Watch Week – and then continue on to the Breguet Boutique in Las Vegas from May 24 through June 3. After that, it leaves the USA on its global tour. The grand finale of the tour will take place in September in Capri. That event will honor the 200th anniversary of the wristwatch ordered by Caroline Murat – with a top-secret new piece.