October is here, and with it – depending on where one lives on this planet—crisp fall air, turning leaves of autumn and Halloween. So this month, we here at Atimelyperspective are going to have a little October fun. With help from our watch friends, naturally.
Throughout the month, we will be bringing you the darker side of some of the watch brands for those who enjoy a little skull duggery … such as these Jacob & Co. Skull watches. These watches are diamond bedecked haunters! Crafted in a stainless steel case with steel bezel, or in PVD, the Swiss-made watches are available in 40mm and 47mm case sizes. The Five Time Zone watches house multiple Swiss Quartz ETA movements and offer time in five zones via the main hours, minutes and seconds' hands, as well as four subsidiary time zones. The watch also offers date indicator. Depending on the watch, as many as 10 carats of diamonds line the bezel, dial and case!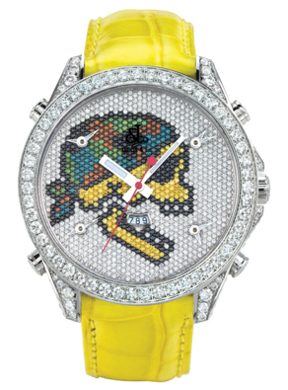 All versions feature 51 diamonds on the bezel weighing 3.25carats. The yellow sideways skull features more than 4 carats of multi-colored diamonds on the dial and the green skull with hat is also set with more than 4 carats of diamonds – and features ruby eyes. These watches are cool. They are mega attention grabbers – even when it's not Halloween!