Even if you are not the most patriotic American, this watch just sort of gets under your skin. Close up- you realize you are really wearing actual words from our Founding Fathers or about them — some of the words inscribed on the dial and composing the red, white and blue flag colors, are even key statements from the US Constitution — on your wrist. Really cool — and a great cheat sheet, too!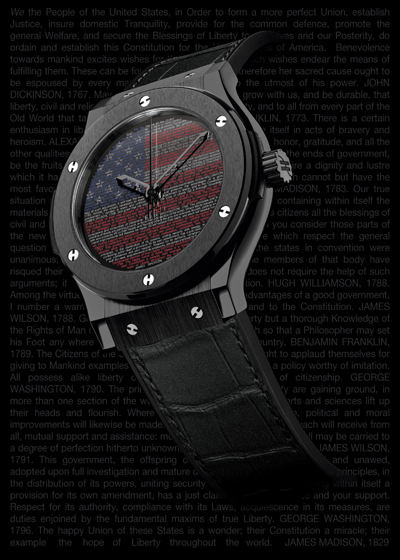 In Philadelphia last week, Swiss luxury watch brand Hublot partnered with The Constitution Center and the Liberty Medal as the "Official Timekeeper" for 2011 and 2012 to celebrate the USA's values of freedom and liberty. To celebrate, Hublot created a special Liberty Bang watch that is really cool to see and, I think, to own! The watch, built in a limited edition of 100 pieces, is a 45mm black ceramic cased watch that features a dial in red, white, and blue flag design. Inscribed on the dial via a new technology, are different important phrases from the United States'   Founding Fathers from The Constitution. Pictures don't do this watch justice, you have to see it to really get the full effect.
"Freedom and liberty are not gifts to be taken for granted, and we admire and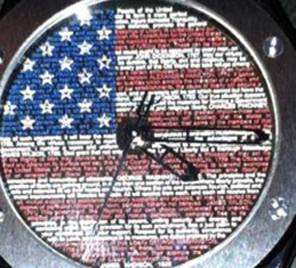 are inspired by those around us who spend their lives defending them," said Jean-Claude Biver, Hublot's CEO. "It is truly an honor to create a timeless piece representing the values of the Liberty Medal."
The Liberty Medal was established in 1988 (the bicentennial of the Constitution) to honor men and women of courage and conviction who strive to secure liberty to people around the globe. Past recipients include Nelson Mandela, Shimon Peres, and Stephen Spielberg, among others. This year's recipient is Secretary Gates, and he received not only the Liberty Medal, but also the number 001 watch of the all-new Hublot Liberty Bang Limited Edition watch created in honor of this medal.  This watch retails for $11,900.