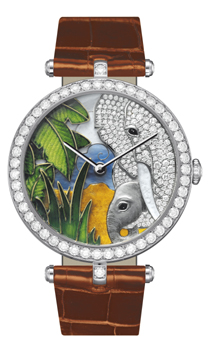 Just a few months ago, Van Cleef & Arpels wowed the world with its unveiling of incredible objects d' art in the high-jewelry collection of timepieces inspired by the Jules Verne book Les Voyages Extraordinaires. The watches mime a journey in a balloon around the world, and thus certain dials depict animals and sights one would see in different continents.
Each is a work of art more beautiful and compelling than the next. Both Nicolas Bos, head designer of the brand and Stanislas de Quercize, president and CEO, insist that it is timepieces like these that have kept this French-souled, Swiss- made brand always at the forefront of hearts and minds of watch lovers. Indeed, not only is it the allure of the timepieces, and the extreme exclusivity, but also it is the exceptional craftsmanship that goes into their making.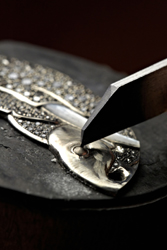 One such watch traces the traveler's discovery of Africa from the balloon's basket, where he looks over the animals and vegetation of the land. The Lady Arpels African Elephant watch depicts an elephant who, with a nudge form its mother's trunk, is guided through the savannah. Here we take a look at just a couple of steps in the hand creation of the sculpting of the gold that captures the tenderness of the elephant, and the placement of the dial of mother-of-pearl inlays, champlevé enamel and diamonds. It takes Van Cleef & Arpels' master artisans hundreds of hours to perfectly carve the settings for the diamonds, to engrave the gold with the features and nuances of each animal to the most minute detail, and to finish and polish each piece perfectly. Just 22 pieces will ever be made –each one unique by the very fact that each is handmade.