Fo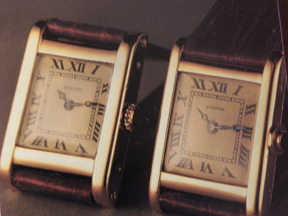 Cartier Tank Watches, ca 1940sr those of you who are history buffs or those interested in a little more fun information to pack in to your thought processes about watches, we are bringing you a little insight into the just-over-a-century-old wristwatch era. Sure there are a few prior "watches for the wrist" on historical record (Patek Philippe in 1868, Audemars Piguet in 1893 and Girard-Perregaux), but the first real made-for- the-wrist watch made its debut in 1904, in the form of a Cartier Santos.
The birth of the wrist watch was spurred by several things,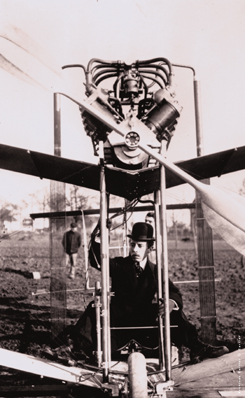 Alberto Santos-Dumontincluding the South African Boer wars of 1899-1902, wherein the military officers liked watches on the wrist for easier accessibility than pocket watches. In fact, several brands made wrist watches for the military – but the average consumer did not easily embrace the concept of a wrist watch. Men thought them effeminate and women were not supposed to be looking at the time, so they didn't need a watch on the wrist.
In 1904, Brazilian aviator Alberto Santos Dumont, who was known to fly his dirigibles around the Eiffel Tower, expressed to his friend Louis Cartier the desire for a watch he didn't have to take out of his pocket when trying to operate the flying machine. Cartier built him a wristwatch, called the Santos-Dumont, which the company shortly thereafter put into production as its first series-produced wristwatch, calling it the Santos.
After that, it was all an open playing field and many brands jumped on the wrist watch band wagon. In 1908, Eterna built the first wristwatch with alarm. Years later with World War 1 in full swing, military officers and aviators found wristwatches crucial pieces of equipment. Omega, Movado, TAG Heuer (then Heuer) introduced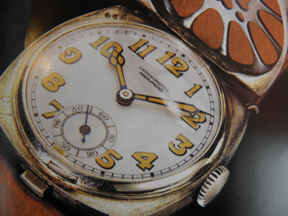 Movado chronomeeter, ca. 1914 with protective grid for on battlefieldschronograph wrist watches for the armed forces and the public in general. In 1916, Cartier created the Tank LC, a rectangular watch fashioned after the first armored combat vehicle. The wristwatch was a superb success and the era of watches for the wrist was in full swing. As the decades progressed, other milestones and trends in wrist watches ensued – but that's a story for next week.