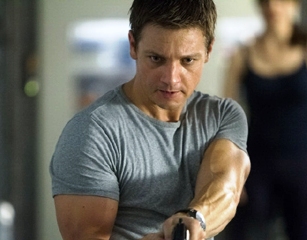 Just recently, Universal Pictures released the next film in the "Bourne" series of espionage thrillers, "The Bourne Legacy," starring Jeremy Renner as the leading man, Aaron Cross. Now, if you are just a normal film lover- you went (or plan to go) to the movie and enjoy it. I, too, have such a desire, however – as many watch lovers know – it is impossible to sit through any movie where a  watch has prominence on someone's wrist and not crane your neck to check out whose watch that celeb is wearing.
In the case of this newest film – IWC stepped up to the plate, out fitting the bold and daring Cross with an IWC Pilot's Watch Double Chronograph Edition TOP GUN. This 46mm high-tech black ceramic timepiece features grey titanium crown and push buttons. Powered by the 79230-caliber chronograph,
it's not only sleek in look, but it is also a high functioning precision piece — perfect for the fearless lifestyle of an agent. This watch is the predecessor to the current IWC Pilot's Watch collection. It's a cool watch and – better yet – anyone who aspires to their own secret agent life – can own one of the new Pilot's Watch Chronograph TOP GUN Miramar watches for about $12,700.