Signed Breguet et Fils, No. 2667, sold in August 1814 to Mr Garcias of London for 5,000 francs, this rare 18-karat gold precision watch contains two movements within the area of a single plate, both with going barrels, fully jewelled, straight line calibrated lever escapements with divided lift and straight pallets. Estimated to sell for between $880,000 – $1,500,000, it realized $4,686,120. Christies Images Ltd. 2012Would you spend a million dollars on a Patek Philippe? Or, better yet, $4 millon on a Breguet? Some people did. Recently Christie's, the world's leading auction house, reported that sales of fine rare and watches is on the increase – with nearly $63 million spent on this categoery in the first half of 2012.
The leaders of the pack when it came to single-sale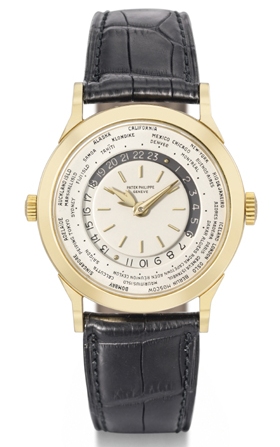 Signed Patek Philippe, Ref, 2523/1, Movement No. 724'303, Case No. 313'037, Manufactured in 1963. this watch houses the Cal. 12-400 mechanical movement, 18 jewels, double stamped with the Seal of Geneva, silvered matte dial, central time zone with applied baton numerals, rotating central two-tone day-night 24-hour dial, outer rotating silver dial engraved with 41 place names adjusted by the crown . Christies Images Ltd. 2012high-ticket items included a Patek Philippe watch — A 1963 18K gold world time wristwatch with two crowns – that set a world record price of $1,022,500 and a 955 Patek Philippe 18K gold wristwatch with cloisonné enamel dial depicting the North American continent: world record price of $2,992,680 (Geneva). Topping them both was the sale of a rare early nineteenth-century Breguet & Fils 18K gold watch with two movements, setting a world record price for a watch by Breguet at auction (sold in Geneva). It sold for $4,686,120.
We here at Atimelyperspective would love to tell you more about the people who purchased these watches, but unfortunately that information is confidential. I know I would love to hear about their other timepieces, because if you are spending this much for a watch – we know you have more!