Photo by Stephan Cooper.For those who are car lovers like me – yesterday was a highlight day – the 50th anniversary of the Rolex 24 at Daytona. A record number of motorsports fans descended on Daytona International Speedway for this historic anniversary on Saturday, when the Rolex clock counted down to the 3:30 pm start of the 24-hour endurance race.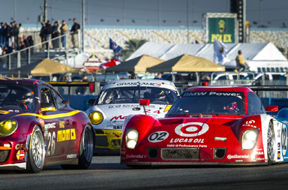 Photo by Stephan Cooper.This year brought a surprise equally as enjoyable as the anniversary – a win from a little team: Michael Shank Racing, who accomplished this with NASCAR's AJ Allmendinger closing out the win in the No. 60 Ford Riley.
Rolex, which has been intimately involved in auto racing since 1935, and solidified its position in the sport in 1959 when it began its association with the Daytona International Speedway, created a specially engraved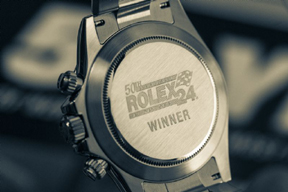 50th Anniversary Rolex 24 at Daytona Winner's Watch. The Rolex Cosmograph Daytona continues to take its inspiration from the first watch designed for lovers of speed, created just about 20 years ago.
Today, Rolex is involved in sponsorships of some of the most prestigious events in the motorsport industry, from endurance races to the GRAND-AM Rolex Sports Car Series. In addition, Rolex supports the traditions of auto racing through events like the Rolex Monterey Motorsports Reunion, The Pebble Beach Concours d'Elegance, the Pebble Beach Tour D'Elegance presented by Rolex, all of which we covered here and here while joining Rolex at the events.