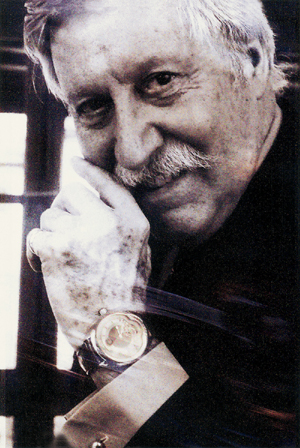 Today, Charles Gerald Genta, legendary Swiss watchmaker and designer, passed away at the age of 80. Not only did Genta design one of the most amazing collections of complicated timepieces under his own name (which was subsequently purchased by the Bulgari Group), but also he is the visionary responsible for the design and creation of some of the most renowned timepieces of our time, including Patek Philippe's Nautilus, Audemars Piguet's Royal Oak, Omega's Seamaster Constellation men's watch and several others.
It was a couple of dozen years ago that I had the great fortune of meeting Genta for the very first of what would be many times over the ensuing decades. Each meeting was an inspiration. In those days, BaselWorld was simply the Basel Fair and it was held in a single building. Genta's booth was in the center of Hall 1 and was opposite a small escalator going upstairs. He and I sat for at least an hour together the first time while he showed me his amazing retrograde watches with Mickey Mouse on them. They retailed for tens of thousands of dollars and I remember asking him, "Are you sure people will pay those prices for Mickey Mouse?" and he smiled his wonderful, congenial smile and assured me the complexities and the concept were guaranteed winners. Of course they were! And they remain so today – fetching top dollars at auctions globally. Genta was always on the cutting edge in terms of technology, design and materials. He was the first to use bronze in a watch when he released the very first Gefica – which he created after a safari and wanted a watch that wouldn't shine in the bushes. I remember those stories oh so well. Year after year, when I met with him, he always had a story to tell me, a new creation to show me: his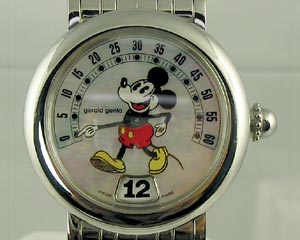 sonnerie, the Octo Grande sonnerie Tourbillon with its four gongs and Westminster quarters that sang out the same melody as London's Big Ben, and even the Grande Sonnerie Retro, designed just over 15 years ago. His enthusiasm was contagious and his demeanor always gracious and humble. Genta was a man passionate about capturing and displaying time in new ways.
After his Gerald Genta brand was purchased by Bulgari, Genta resigned but never quit … he went on to create the Gerald Charles brand, with new pieces and designs that he planned to continue to expound upon. He was designing for other brands, as well. While his death saddens me and is a great loss to the industry, Genta was a man who made history in watchmaking, and he would want us to rejoice in the creations he brought to us. I know many an independent watchmaker of today who considered him their mentor, and also mourn his death, but who will carry that innovation torch forward in time with visions of preserving Genta's passions in their own manner. We will miss you, Gerald Genta.