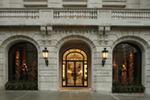 When it comes to Ralph Lauren, the world expects style, sophistication and savoir faire. Last week when he held the grand opening of his spectacular first-ever US Watch & Jewelry Salon at 888 Madison Avenue – he stunned even those who were expecting grandeur. The mansion, which was two years in the building and decorating phases, was – to put it mildly – over the top.  Not over the top lavish or ridiculously overdone – but just superbly beautiful in only the way Ralph Lauren could do it.

The 22,000-square-foot, four-floor mansion, which is the flagship store devoted to the brand's women's collections and luxury home goods (and is directly across the Avenue from the men's goods store), is decorated with marble, limestone, wrought iron, crystal chandeliers, floor-to-ceiling damask black drapes, wood paneling, amazing flower arrangements,  balconies and more.  It is the envy of all mansions, and the fitting place for the unveiling of the new Ralph Lauren Fine Jewelry collection – which boasted pearls, diamonds and stunning motifs of classic elegance and updated style.

In fact, the collection is inspired by brilliance and tradition, and revolves around several themes, including the Ralph Lauren Diamond Link Collection, Equestrian Collection, Monogram and Chunky Chains series – all offering glamour and classic elegance. Even the newest Ralph Lauren Stirrup

Collection of diamond watches with a sophisticated all-diamond bracelet shimmers ever more brightly in this setting. All of the Ralph Lauren Watches house only the finest movements from Piaget, IWC and Jaeger-LeCoultre.
That night, at the Grand Opening event, Mayor Bloomberg presented Ralph Lauren with the Key to New York City, which Ralph Lauren graciously and warm heartedly accepted – praising the city and his customers for his success.  The new Watch & Jewelry Salon complements the dedicated watch areas opened last year at Ralph Lauren boutiques in Chicago, Dallas, Beverly Hills, and Greenwich, as well as in Paris earlier this year.