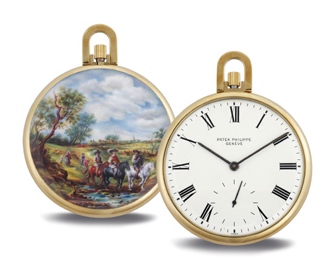 Lot 94The upcoming June 15 Christie's New York sale of Important Watches promises to offer a good number of lots for collectors interested in pieces in any price range. With watches on public exhibition from June 11 to June 14, Christie's highlights more than 400 individual watches from vintage to modern day pieces for men and women. The auction is expected to fetch more than $5.5 million.
The sale also features a host of prominent private estate collections including pieces owned by James Ward Packard auto inventor and the late racing enthusiast G. Garvin Brown III. The top lot of the sale is an iconic Patek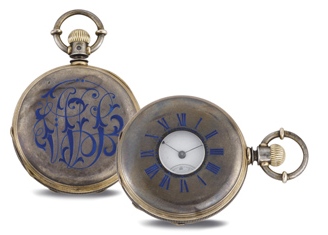 Lot 97Philippe Ref. 2499 rare perpetual calendar chronograph wristwatch that was built in 1960 and is estimated to sell for between $600,000 and $1 million. Other highlights include Lot 94, a Patek Philippe open face keyless lever watch with enamel miniature, which is expected to sell for between $50,000 and $80,000; Lot 96, a Patek Philippe minute repeating perpetual calendar split-seconds chronograph keyless pocket watch with half instantaneous 30-minute recorder, circa 1917, expected to sell for between $100,000 and $200,000.
Looking for the more affordable end of the spectrum? Turn to Lot 97, where a superb American Watch Co., circa 1870, half-hunter case keyless lever pocket watch can be found. Part of the Packard collection, it has an inscription on its back to Packard From "The Boys" – March 1874. It is expected to sell for $2,000 to $3,000.
The preview and auction are at Christie's New York, Rockefeller Center. www.christies.com