Hamilton Watch Company and Harrison Ford have teamed up for the third time Conservation International (CI), a non-profit organization that works to create a healthy planet. In support of the cause, Hamilton has created the Hamilton Khaki Conservation Auto Chrono, designed in collaboration with Harrison Ford, vice chair of CI's Board of Directors. The watch is dedicated to encouraging people to preserve natural resources. It features a vintage natural beige dial and brown leather strap and houses a Swiss made H31 caliber with 60 hours of power reserve, crafted in stainless steel and resistant to magnetic fields to echo a theme of longevity and sustainability. The watch features Harrison Ford's signature on the back and the CI logo. It retails for a cool $1,945 — a veritable steal!
According to Harrison Ford, in an interview conducted for Hamilton, the collaboration between himself and Hamilton Watch Company to support the work of CI is proving successful. "…The preservation of planet earth is extremely time-critical. What could better mirror that fact than a watch? So I am very happy to have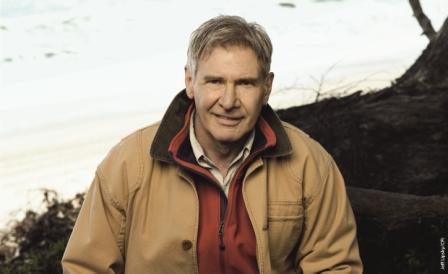 (C) Hamilton International Ltd. collaborated with Hamilton over the last few years with many positive outcomes demonstrated," says Ford, who enjoyed being involved in the design of the new collection.
"Like the previous collections, I really appreciated being actively involved in the design of the Khaki Conservation Auto Chrono. It was important for me to create a watch that reflects the mission and values of Conservation International. Each detail of the design echoes the theme of nature, longevity and sustainability. For example the automatic chronograph movement, the engraving of my signature and the logo of CI on the back case remind us the fragility of time and the importance of immediate action. To express the colors of nature, I went for a soft brown leather strap that perfectly fits the vintage dial. The resulting watch is just great! I love it."
For Ford, protection of the planet is extremely important to him and it is vital for him to be involved and play a leading role. "I see opportunities to preserve the natural world slipping away, and I want to be involved in correcting the balance between the pressure of human population and the potential benefits to humanity of healthy ecosystems. We are the problem; we are the solution. Our health relies entirely on the vitality of nature and our fellow species on Earth. We have to recognize our responsibility and take action now. This summarizes the mission of the Conservation International organization and I can't think of anything more relevant – to me or any other human being!"