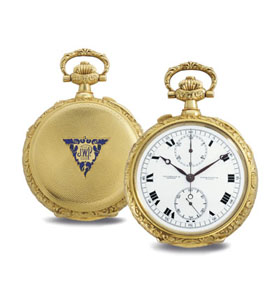 James Ward Packard watchIn a move designed to coincide with the opening of its first USA boutique (in NYC) and to recall its rich history here in the USA (which ATimelyperspective wrote about just recently), Vacheron Constantin has launched an interactive website: http://americanheritage.vacheron-constantin.com
The venerable brand – the world's oldest watch manufacture in continuous operation – invites readers who are Vacheron Constantin owners to share their timepiece and personal stories so they can become part of the brand's American history, which started here in 1832. The American Heritage of Vacheron Constantin Project features three timelines on the site, including one of the brand's 256-year history, an American history timeline, and stories of its American collectors, including Henry Graves, James Packard, Julie Ward Howe and others. In fact, it was in 1918 that James Ward Packard, founder of the Packard Motor Car company, commissioned a unique piece from Vacheron Constantin that sold recently at a Christie's auction for $1.8 million. This piece can be seen on the site. Current Vacheron Constantin owners will be asked to provide information on their timepiece, allowing the brand's Heritage department to validate each submission, after validation, owners will be invited to share their unique story as part of the timeline.
This concept is similar to what several other top brands are doing in the web world, by inviting customers to share their stories on line and become part of the brand's history. Does this new wave of interaction attract the right clientele? This remains to be seen.