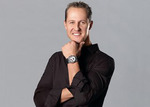 Michael Schumacher teams up with Audemars Piguet as the brand's newest icon in the automobile racing arena – a field the company has been part of for years (having sponsored classic car rallies, and having had other auto racing ambassadors).  In a classic car exhibition space in Germany this morning – and via live streaming — the legendary German race car driver was welcomed into the Audemars Piguet family officially by CEO Philippe Merk. Schumacher has seven World Championship Titles, 91 Grand Prix victories, 154 podium finishes on all the world's major tracks and a host of other impressive wins that all together make him the greatest driver of all time.
Schumacher has been racing since childhood- starting with go-karts at the track his father worked at, and working his way up from there. He won his first title in 1990. He moved on and had an unbroken string of successes through 2006, when he quit racing. However, he has decided to return for the next racing season after a three-year absence.  For Audemars Piguet, the partnership with Schumacher further demonstrates the brand's alliance with perfection and excellence, and underscores its commitment to motorsports worldwide.  In the past AP's other racing driver alliances were with Rubens Barrichello, Jarno Trulli and Sebastien Buemi.
Says Merk, "Michael Schumacher is not only the greatest racing driver of all time, he is also a big-hearted, discreet and altruistic individual who dedicates his reputation to great causes.  An iconic figure, he embodies strength, determination and a passion for challenges for competition."
Schumacher will wear the Royal Oak Offshore.Will that make you run out and buy one?