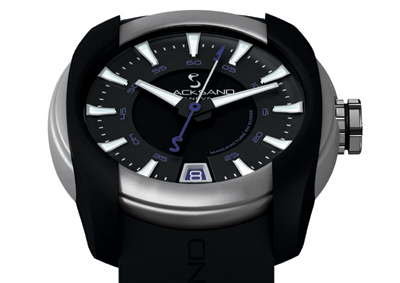 There's a new brand on the block — but don't be fooled … the executives behind it have years of watch experience and have put together an impressive collection of powerful timepieces that are destined to bring a loyal following. Called Blacksand, the brand is founded by Alain Mouawad (of the famed Mouawad family of jewelers and watchmakers) features a uniformity in design and craftsmanship. With a tag line "Elements of Time, Manufactured in Switzerland," the watches are crafted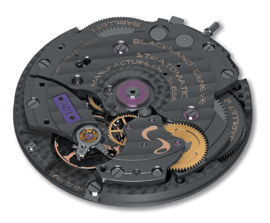 using high-tech materials such as tantalum with rose gold, sandblasted ceramic and titanium. Each watch is marked with the all-too-familiar words "Semper Fidelis" — labeling the brand the defender of watchmaking value and further underscoring its commitment to "rise above the expected" and to adhere to strict codes of watchmaking conduct. It is also a call for those who have a true loyalty to fine watchmaking, to powerful timepieces. In a tribute to the armed forces, and drawing its inspiration from their feats, the watches focus in design on strength, readability, high-tech materials and stealth looks.
Blacksand watches are dedicated to pure lines and expressive attitudes, with a color palette of black, violet and stone gray as the prevailing hues. The Blacksand logo –a futuristic stylized hour glass – has many different interpretations:  yin/yang, a serpent, infinity conveyed through the figure 8.  The Uniformity collection features a sporty, contemporary yet timeless appeal via a 46mm curved case framed by two sand-blasted matt ceramic shafts that shape the lugs and are the signature look of the line. The timepieces house COSC- (and Chronofiable) certified chronometer movements with self-winding twin barrels that offer 120 hours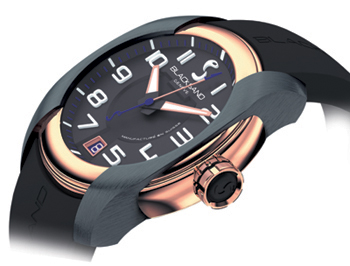 of power reserve.  The Blacksand Genève caliber 1970 is on a Technotime base and offers instant date jump, stop seconds and tungsten carbide rotor. The watches feature sapphire crystals and casebacks and two-level dials that feature blue-emission SuperLuminova for superb yet colorful night reading. They retail from $14,500 for the titanium and ceramic version to $22,500 for a pink gold and titanium or pink gold and ceramic version, to $33,900 for an all pink gold model.  Worth taking a look at, but better to try on – this one is a must see and feel to appreciate.