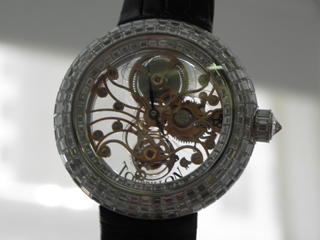 There are expensive watches and then there are really expensive watches – and with good reason. Let's get it out of the way, the extraordinary Jacob & Co. Crystal Tourbillon retails for $900,000 – and it is NOT a one of a kind timepiece. It is, however, created in a limited edition of 180 pieces.
So, you ask, who would spend nearly a million dollars on a watch and why? Well, many people today easily plunk down $25,000 on their starter watch, and true collectors looking for something special see both technological prowess and haute joaillerie work in this stunning Crystal Tourbillon. On the obvious side, the watch is invisibly set with approximately 18 carats of the highest quality flawless Top Wesselton diamonds – making it a dazzling beauty. However, the true allure for any watch lover comes with the movement – a skeletonized masterpiece held between two sapphire crystals in unparalleled beauty and craftsmanship.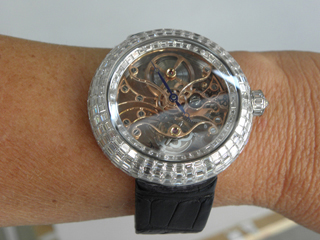 The first Crystal Tourbillon was revealed to the world several years ago, but due to the complexity of building one, just a few are created annually. The mechanical, manual-wind timepiece houses the 750-part, 17-jeweled Jacob & Co. 7 Caliber movement with sapphire bridges and intricately skeletonized components. This finely etched and engraved movement, with 60-second tourbillon, is then placed between sapphire crystals so it has the illusion of floating in space. It takes Jacob & Co.'s master artisans and watchmakers 2,000 hours to engrave and build this movement. Additionally, the setting of the 17.48 carats of flawless baguette-cut diamonds on the 47mm 18-karat white gold case requires hundreds of hours of the master gem setter's time. Indeed, the Crystal Tourbillon is a work of art, craftsmanship, precision and passion – one of the most expensive watches in production – and probably well worth its cost. Oh, and it feels even greater on the wrist than it looks in the light!