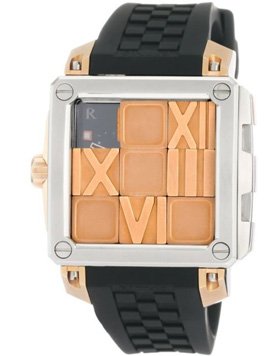 It isn't every day you get to find a really cool, different and fun watch on the market – unless, of course, you are looking at Ritmo Mundo watches. This creative, almost 10-year old watch brand is ripe with innovation and has an awesome following of celebrities and watch collectors because it offers unusual timepieces that can boggle the mind. A few months ago we wrote about the brand's wonderful Persepolis watch with its revolving case and two sides. Now, we want to introduce you to the Puzzle.
You remember those great grid games you used to play with as a kid – push the little squares around to form a picture? Well now you can have that game – on your wrist! The Puzzle watch features that toy-like puzzle design over the watch dial– in gold, or other metals—with or without diamonds! It emulates the game and hides the time, sort of as a cool way to defy time's passing. The puzzle is a flip-top grid that one opens to reveal the time on the dial beneath! Ritmo Mundo also offers a great customization version, where owners can have their name or their own design created on the puzzle. These watches retail from $3,500 to $10,000 and up depending on the material and diamond or gemstone configuration. This is a fun and different watch – definitely one for the person who doesn't like to watch time pass him — or her — by!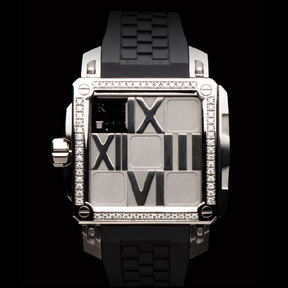 Plus, we here at Atimelyperspective have a lot of respect for Ali Soltani, the creator and founder of Ritmo Mundo, who is an inspiration to others, whose humility is a virtue, and who caters to a clientele that is notoriously hard to please (aren't we all?!). Watch for more about Ritmo Mundo coming soon.