I was wearing a SEAH® watch and bracelet the other day to an event I went to. Someone asked to see my bracelet. It is a triple-wrap leather bracelet with astrological icons on it. I'm a Pisces. I love wearing my bracelet. Seah watches are not well known yet. They made their official debut  on the US market at the Couture Show in Las Vegas in June with unique Registered and patent-pending designs.  The astrological watch brand is positioned to remind people to reconnect with their inner beings. For me – it does that.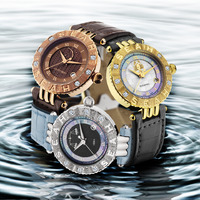 (Automatics)
"Swiss-made SEAH® Watches offer individualistic style and enable one to wear his or her own personality on the wrist," says brand founder and creator Rachel Levy. "SEAH®, The Gift of Time®, is the only watch that brings a person back to his or her identity.  It is a spiritual brand that represents a oneness with nature and carries an underlying message of self-confidence and inner peace. Born as a tool to reconnect with nature's life forces — the sun, moon and stars, SEAH® blends the elements of the universe with time for a harmonious personality that reflects its wearer."
SEAH® — which is an ancient world for "time" – was seven years in the making.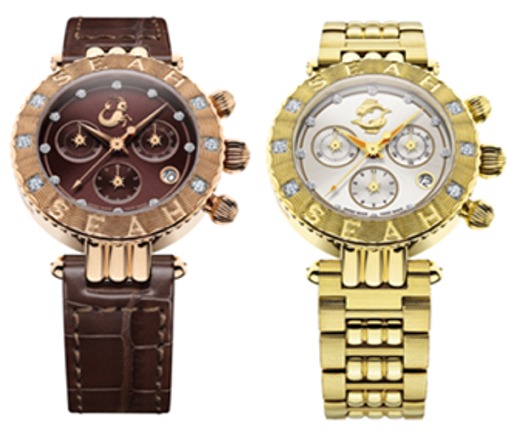 (Capricorn/Pisces)
The line of quartz chronographs and three-hand automatics was developed and designed by Levy, who conceived of it during a blackout after a hurricane hit her home town in Florida.  The bezel of each SEAH® watch is engraved with waves to emulate the ocean; the center of the watch features the illuminating sun; the hands are meant to depict the Sun's rays. At the dial's summit is the personal astrological sign that reflects the wearer's inner traits. Every SEAH® Watch is sold with a small book that describes the personality traits of the month's astrological sign, and gives a horoscope from owner and founder Rachel Levy.  www.seahwatches.com
My Thoughts: Well, I really enjoy wearing my Seah. I own a quartz and an automatic, and I like that when I look at the dial, I am reminded that I am a Pisces — with versatile skills, creative, inspired, sensitive, imaginative, sensible and trustworthy.