Tissot – Swiss watch brand with more than 150 years of history behind it — is always on the cutting edge when it comes to sports. It is the official timekeeper and partner of NASCAR®, FIBA, AFL, CBA, the World Championships of Cycling, fencing and ice hockey, and MotoGP.
In fact, the Tissot is a member of the Swatch Group, the world's largest watch producer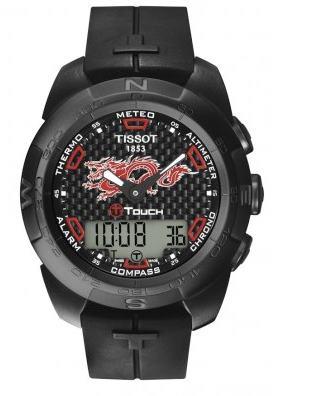 and distributor of Swiss Watches, as well as official timekeeper and partner of NASCAR®, FIBA, AFL, CBA, MotoGP and the World Championships of cycling, fencing and ice hockey. With the latest innovations in its communication and product, Tissot presents impressive proof of its signature, "Innovators by tradition".brand is way out on top when it comes to motorcycle racing and backs MotoGP like no other watch brand could, with a host of brand ambassadors from the fast-paced world of motorcycle racing. Ambassadors include Nicky Hayden (MotoGP world champion), for whom the brand created a Tissot T-Race Nicky Haden Limited Edition watch — a GMT chronograph incorporating his colors and number into it.
Why a T-Touch? Well – have you seen one lately? This watch has so much to offer! In fact, it is the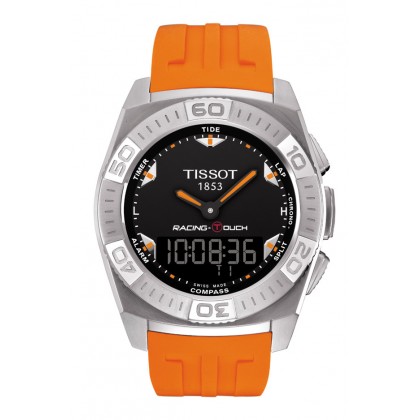 This T-Race watch offers 11 functions and retails for $650.basis behind the brand's advertising campaign that holds the tag line "In touch with your time". The T-Touch watches house expert technology that enables them to offer a vast variety of functions with a simple touch to the watch. The titanium T-Touch Expert Dragon 2012, for instance, features a weather forecaster, altimeter, compass, thermometer, alarm and more—in addition to the chronograph and time-keeping features. There is also a T-Touch Sailing watch (with countdown timer for yacht racing), a Sea-Touch (with dive functions) and a host of other exciting versions – with some of them offering as many as 15 functions. The T-Touch collection ranges in price from $625 to $1275 and the dragon retails for $1250.