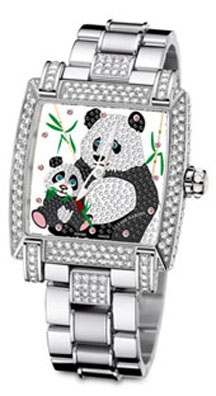 Hot on the heels of the wonderful Caprice Tiger that Ulysse Nardin released to the world last year, the brand now unveils its adorable precious Caprice Panda watch. The panda, beloved for its distinctive black and white beauty and serene majesty, is an honored treasure – intriguing all who have the privilege to see one for real. A symbol of strength and resilience, the gentle bear reigns as a creature of mystery and awe – and now lives on timelessly in a stunning version interpreted on the wrist like only Ulysse Nardin can do in the Ladies Caprice Panda in 18-karat white gold.
Depicted seamlessly in black and white diamonds, a mother panda and her cub feast on bamboo, their favorite treat. Pink colored rubies mark the hours. The watch houses a UN -13 self-winding movement with diamond-set rotor in 22-karat gold and features a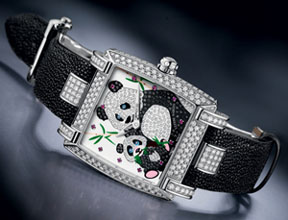 sapphire crystal caseback for viewing the meticulously finished components. The watch is offered with either a partially diamond-set version with 184 diamonds on a leather or galuchat strap for $43,300, or a full-set diamond case with 352 diamonds with alligator or stingray strap ($55,300) or with white gold bracelet ($72,300). Just 28 pieces will ever be made for worldwide distribution. This watch is a real wonder to behold.