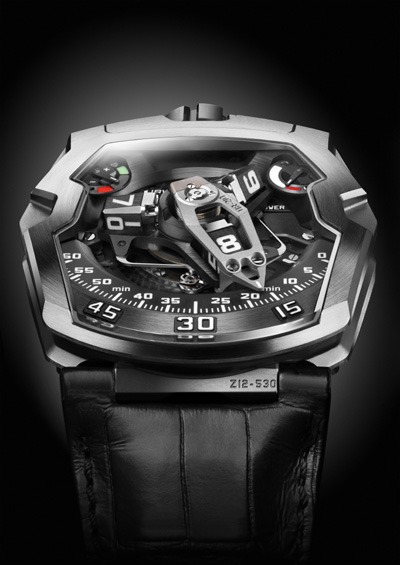 Ok – Urwerk – a brand we have covered many times before – has unveiled the UR-210 timepiece, which it says offers a symbiotic relationship with its wearer. In fact, the dial of the UR-210 features not only the hour satellite display that has made it famous, but also its first retrograde indication and a world's first in a wristwatch – winding efficiency indication during the most recent two hours of the wearer's time. It seems then, that this watch knows if you are sleeping and knows if you're awake!
When sitting at a desk or in front of a television, for instance, the indicator points toward the red zone – intimating that the watch is not being wound enough by its automatic rotor and is running on stored energy. Conversely, when running or working out at the gym, the indicator points toward the green zone – a sign that the activity is replenishing the watch's stored energy.
This entirely new indication does not measure mainspring torque as in most timepieces, but rather calculates the difference between the consumed and generated energy of the mainspring.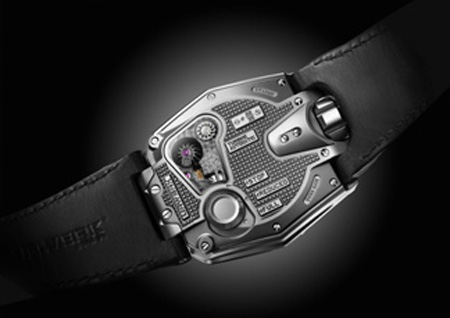 Armed with knowledge of both winding efficiency and available power reserve, the wearer can intervene. If the UR-210 indicates an insufficient supply of energy, the owner positions the winding efficiency selector (at the back of the watch) to "FULL". The rotor then converts the slightest movement into stored energy. In this configuration, a turbine connected to the rotor provides smooth, unimpeded power. But in more active situations that may provide more power than required and unnecessarily wear the mechanism, the wearer positions the winding efficiency selector to "REDUCED" to engage the rotor damping system. An air turbine compressor mounted on ruby bearings ​​spins and creates internal resistance – enough friction to slow down or dampen the automatic winding rotor. In "STOP" mode, the automatic winding system is disabled completely and the UR-210 runs off reserve power and may require manual winding. In all, it is a very complex system that enables the watch lover to truly interact with his timepiece and its power supply.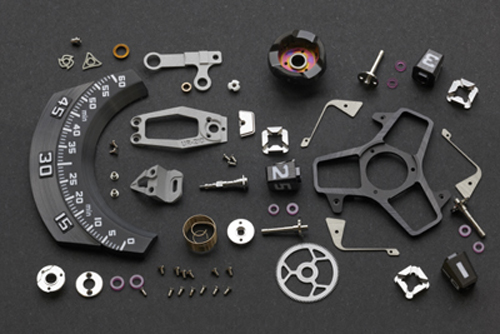 Additionally, this watch features a super-fast retrograde minutes display that forms a frame for the hour satellite. The massive aluminum skeletonized hand not only features the hour number, but also displays the minutes. Another extremely complex configuration, the retrograde action is extremely quick; thanks to a double coaxial star-shaped cam that regulates the retrograde mechanism through its gearing. When the minute hand reaches 60, the double star trips a hockey-stick shaped spring under the mechanism, which liberates the minute to fly back to the next hour satellite at 0-minutes. As of today, the price of this extremely complicated timepiece was not yet established.