Unusual watches surround us these days. No longer are ultra luxury timepieces simply round or square with the time indicated in regular "hands" format. Certain watchmakers broke that mold some time ago – bringing unique new modes of timekeeping and reading to the forefront. Urwerk is one such brand and the new UR-110 Torpedo is one such watch.
From its asymmetrical case to the three arrow-shaped torpedoes flying in formation on the dial (their mission is to indicate the time), this watch is a bold technological statement. Available in titanium on strap at $95,000 (25 pieces being made), the watch essentially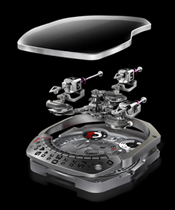 indicates time by means of a revolving satellite complication on planetary gears- with patented carousel. Urwerk – founded by watchmaker Felix Baumgartner and designer Martin Frei – is known for using satellite complications. The ingenious layout of this new watch enables the wearer to view the time on the right side of the watch so the man doesn't have to move the shirt cuff aside. Additionally, this I the first time that all three satellites have all the numbers always vertical and spinning in one direction. To accomplish this, it was a question of changing the spin on the satellite and changing the wheels and the number of teeth, as well –no easy feat. Additionally, the watch uses high-precision transporters to control the variable lengths of the minute hands as they traverse the dial – requiring extreme precision
and tolerances. While the watch may look simple at a glance – it is not. This watch features a new crown execution and before it could come to fruition; the technical engineer confided to me that he worked on five different crown versions before the technology worked perfectly, since the space was really needed inside the case for the movement.
"In fact, the development of UR-110 mobilized our entire team for nearly two years," says Felix Baumgartner.
Two years – one design – 25 pieces. Are you on that waiting list?