IWC Big Pilot's watchCall them what you want, aviator watches, pilot watches, aeronautical instrument watches – it doesn't really matter. What does matter is that aviator watches are easily one of the most important genre of timepieces on the market today thanks to so many technological developments in shock resistances, antimagnetic cases and precision excellence, as well as design. Pilot watches have their true roots with the dawn of the age of flying – the 1920's and 1930s, but they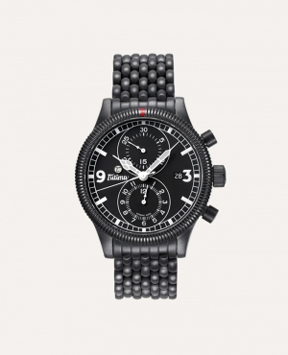 Tutima Grand Classic Black garnered fast favor in the late 1930s and early 1940's when brands such as IWC invented the soft inner iron case to guard against magnetism while in flight. With the advent of the space program, Breitling, Omega and a few others such as Bell & Ross and Fortis, trekked in to space, giving them a leading edge in technology.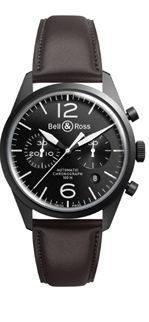 Bell & Ross BR 126 Original Carbon Today, aviator watches are a staple for top flight programs, as well as famed aerobatic and national flight teams. Top brands in the aviation watch world include IWC with its Big Pilot's watches, Spitfire, and Fliegerchronograph lines, Tutima, Bell & Ross, Breitling, Longines, Omega, Bremont and a host of others who produce timepieces with Inca-block anti-shock devices, antimagnetic inner iron cases, and other important functions and features. Important functions to look for in aviator watches include chronometers (timepieces that have been tested under the most rigorous situations and standards and have passed within strict guidelines), compass abilities, tachymeter scales, chronographs and some other features like watches with oversized crowns or slide rule bezels (a famed icon of Breitling).
Alpina Startimer Pilots Chrono In terms of materials, in today's high-tech world, so many great new DLC, PVD and ceramic are being used, as well as alloys taken directly from the aeronautical industry that the sky is almost the limit when it comes to selecting the watch case right for you – it's really just a matter of personal choice. So strap on one of the newest flight watches and enjoy the ride.