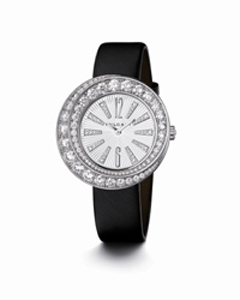 BulgariWith the holidays here, parties and social events abound. Today's finest watchmakers make getting dressed up for black tie soirees is a snap, too! Diamond-adorned watches come in all shapes and sizes this holiday season and sparkle to the tens! The breathtaking beauty of these jeweled time tellers will have all eyes on the wearer.
Certainly since the first diamond was unearthed, nature's bounty has captured hearts and souls. Diamonds cast a spell
Diorthat few can resist. Recognized as symbols of power, religion, wealth and even victory, they are said to have qualities that are akin to spiritual aids, and are prized for their romantic appeal. It is no wonder, then, that watchmakers would turn to these stones to adorn their treasures.
The first timepieces dressed in diamonds appeared in the 16th century, and were most likely in reaction to the fact that John Calvin banned his followers from wearing jewelry. To save their trade, many gem setters and goldsmiths combined their craft with the clockmakers and cabinotiers – as clocks were still allowed – and began adorning these instruments with elaborate gemstone detailing. Within a few years, clocks and pocket watches were transformed into pieces of jewelry.
Today, the finest watchmakers excel in diamond settings for timepieces – and some brands, including Van Cleef & Arpels, Cartier, Chopard and Jaeger-LeCoultre, even created their own setting techniques, some of which have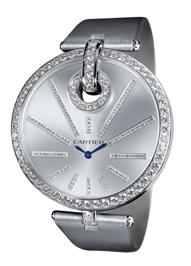 Cartier become legendary in the watch world. In the mid-1900s, Van Cleef & Arpels developed the now-famed invisible setting, where the gems are cut in a manner so that when they are set together they interlock, essentially forcing the stones together with no visible metal.
The actual setting of the gemstones is a tedious job that requires much skill. Often, one of the most elaborately set pieces can take months to complete. Diamond cuts predominantly used for watches include brilliants (round), marquis, pear, and trapeze for fancy cases such as floral shapes, carre' (square) and baguettes (rectangles). No matter what the cut or the setting though, one thing has remained true throughout the centuries – diamonds are a girl's best friend.