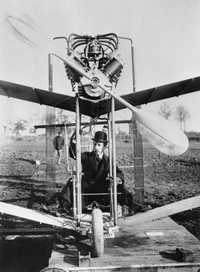 Alberto Santos Dumont ©CartierTaking to the skies isn't as easy as it looks. It took Orville Wright many attempts more than 100 years ago before he got his first biplane to fly over Kitty Hawk, NC in 1903 – but thank goodness he kept on trying.  Since then flying has taken on all new dimensions. And time has kept pace.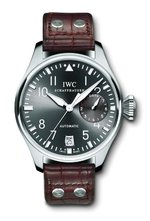 IWC Automatic Pilot's WatchWatches and aviation have had a long and close relationship over the past century. In 1904, Louis Cartier created a wristwatch for his friend Alberto Santos-Dumont, the pilot who could be seen flying his dirigibles around the Eiffel Tower. He needed something easier than a pocket watch to tell time by when operating his controls. (In 1911, with Santos-Dumont's permission, Cartier reproduced the Santos watch as part of its line, and today, the it  is still in Cartier's collection.)  In the late 1920's, following his Atlantic crossing flight, Charles Lindbergh went to Longines and together they created the Hour-Angle watch as a navigational tool (another piece still in existence today).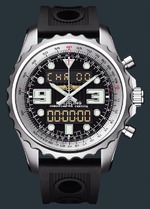 Breitling ChronospaceIn the late 1930's, important developments in mechanical watchmaking helped propel the aviation category to new heights. Accuracy and durability improved. Chronometers emerged and brands began equipping watches with oversized winding crowns, or slide rule bezels (ala Breitling) designed for pilots. Easily one of the biggest accomplishments was overcoming the effects of magnetism on the mechanical watch. Many brands
Bell & Ross Instrument BR03-92 Military Ceramicwrestled with this detrimental problem, but it was IWC that developed a method to outwit magnetic fields by housing the watch movement in a jacket or inner case made of a soft iron alloy that would prevent the magnetic fields from reaching the inner movement.
Following the World Wars and with the advent of Space exploration, some watch brands ventured further. . Brands such as Breitling, Bell & Ross and Omega trekked into the space era with enthusiasm. In 1962, Lt. Commander Scott Carpenter donned a Breitling during the Mercury program, and in 1965, NASA (after blind-testing a variety of watch brands) selected Omega's Speedmaster as the official watch of the American-manned space flights. Bell & Ross launched into space in 1983 on Reinhart Furrer's wrist in the Spacelab mission.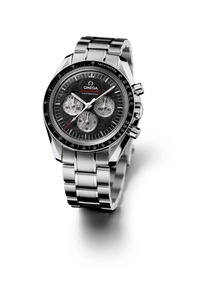 Omega Apollo Soyuz SP49
Generally pilot watches today are COSC-certified chronometers and often offer additional functions such as compass abilities, GMT indications, altimeters, telemeter scales (to measure distance), tachymeter scales (to measure speed), or
Bremont MBII on cloth strapchronographs (to measure continuous or discontinuous intervals of time). Most remain on the cutting-edge in terms of materials used and testing. In fact, Bremont even has a joint venture with Martin Baker, British manufacturer of ejection seats, and its aviation MB1 and MB2 watch movements are further tested by strapping them onto the ejection seats when they're tested.