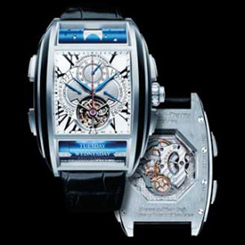 Maitres du Temps with retrograde date and retrograde GMTYesterday, Atimelyperspective.com posted a video about the making of the retrograde watch and the setting of the hands on these timepieces. Mesmerizing to look at, retrograde timepieces are not the easiest to make, yet this year, they are among the most popular complications to come on to the market. A retrograde watch is one that offers some indication of the time of day (hours, minutes or seconds) or of the day, date or other function in a linear or arc fashion instead of the traditional circular dial mode.
Typically, on a retrograde watch, several functions are in classical readout and one, two or three displays are retrograde – offering a beautiful and harmonious look. The retrograde hand generally starts at the beginning and then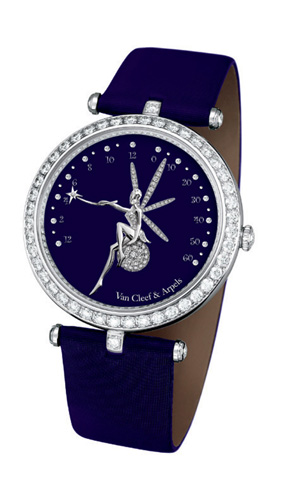 Van Cleef & Arpels Fairycounts to the end of the scale, jumping back to the beginning to start its count again. In some timepieces, the retrograde hand is tied in with a particular design mode on the dial. Such is the case with the Van Cleef & Arpels Feerie watch, where the retrograde hand is the fairy's wand that continuously moves.
Some brands offers single retrograde indications, while other brands offer a balanced double retrograde readout on the dial – offering two hands on either side of the watch in a "winged" format, or on the top and bottom of the dial. Yet others, such as Harry Winston, are masters at a tri-retrograde design. These timepieces naturally command a little more cash and are definitely worth the money. They're wonderfully alluring to watch (pardon the pun).
Harry Winston Premier Triple Retrograde Chrono