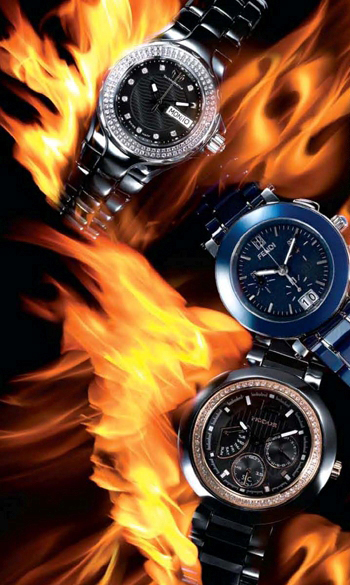 photo by Kenji TomaToday's fashion-forward watchmakers have jumped on the engineered ceramic bandwagon – making affordable ceramic watches that look sleek and cool. Of course, it was Rado that first utilized high-tech ceramic (from the space and automotive industry) for timepieces just about 30 years ago – and naturally the brand continues to be on the cutting edge in this realm. However, many others have their own twists. At the very high-end (not covered here, but to be approached soon), there are ceramics of the ultimate technological extreme (some even mixed with metals and alloys).
Indeed, the ceramic of a luxury watch is typically of a different caliber than that of their affordable fashion counterparts. All ceramic is not the same. Some companies fuse their ceramic with other products, intersperse it with steel for bracelets or create thinner layers of ceramic on their pieces to keep costs down. However, none can deny that the shiny finish of all ceramic makes it a pleasure to look at, and draws the attention of luxury and fashion watch brands alike.
Essentially, ceramics render a watch virtually scratch-proof. Perhaps a diamond may be able to scratch it, but basically, a 30-year old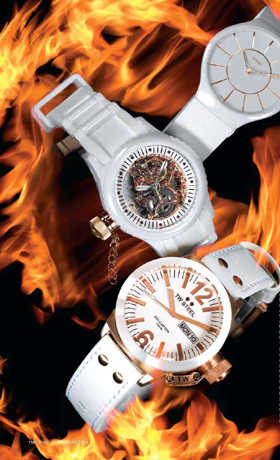 high-tech ceramic watch, regularly worn, would still look brand new today. This non-metallic solid material is engineered to meet very strict specifications. It is created via extreme heating and a subsequent cooling process. It typically has extremely high melting points and can withstand temperatures from 1800 degrees F and higher. It is incredibly hard, durable, light weight, resistant to abrasion and high temperatures and hypo-allergenic – making it a coveted material for watch cases, bezels and even bracelets. Ceramic watches are also particularly appealing for sport and dive pieces because they withstand chemical erosion, and possess antimagnetic properties.
While most brands use ceramic in either black or white, in the past few years, several companies have developed ceramic watches in colors such as midnight blue, chocolate brown, hues of pink and even silver. Portions of this feature, and the photograph, are excerpts from Roberta Naas' article appearing in the March issue of Philadelphia Style Magazine.