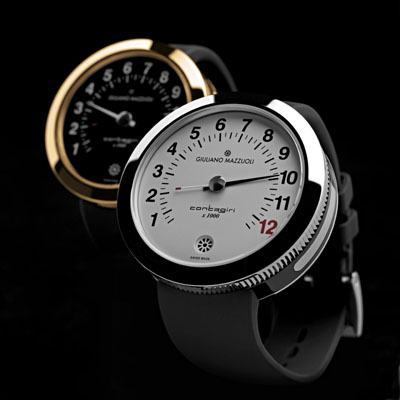 Those in the know will recognize this designer's name. Giuliano Mazzuoli is the man responsible for the famed Manometro watch, as well as several pen and leather goods collections. The Manometro watch is renowned for its simplicity. Designed as a concept to reflect a pressure gauge, the Manometro measures time – elegantly and cleanly – and has become an icon. Now, Giuliano Mazzuoli unveils the Contagiri (translated in Italian as "tachometer").
The result of four years of research and development by this Italian designer, along with Swiss watchmaking wizards, the Contagiri allows the wearer to experience aesthetic harmony, design balance and mechanical perfection. The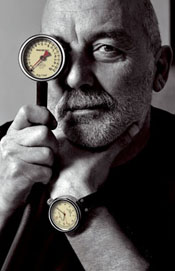 patented timepiece is a world first in that it offers two unusual features together: It is an hour retrograde watch, and it has no crown. The winding of the watch, as well as the setting of the time, are done by turning the bezel of the watch. The two functions alternate through a lever (gear shift) and are identified in two small windows – one window by the number 1 to wind the watch, and one by the number 2 to set the watch. Clean, sophisticated and really cool- this patented timepiece (created in Italy, made in Switzerland and guaranteed for five years) retails for $14,000.