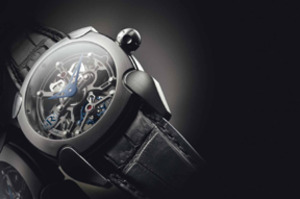 Some may remember the designer of the original Rodolphe Watches – Rodolphe Cattin. When those watches first hit the scene years ago, I liked them. They were big, bold and dramatic. Then, of course, the relationship between Cattin and the Franck Muller Group (which purchased the brand) went south, and Rodolphe Cattin left. Now, Rodolphe is back — as MRC – Manufacture Rodolphe Cattin! Now, Rodolphe Cattin teams with business partner Thomas Meyer and unveils a complete new collection of timepieces that has his distinctive signature on them.
"I want to show my ideas and my work in a different way, but it will always have my signature look, my character," says Cattin, who says he has put the past behind him and is eager to move forward. Cattin and Meyer spent a good year speaking to customers and retailers about what they wanted in a new watch brand before he started sketching and designing. "I had many ideas in my mind, but I want to build a watch brand, not just make some pieces. To build a brand, you have to give the customers what they want and do it in a creative and appealing way."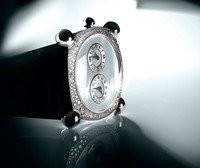 Their research showed a void in women's watches, and an over-saturation of divers' watches and watches with busy bezels (with screws on them and other sporty motifs). They took this into account, opted to focus strongly on a women's line, and offer a clean men's series. The end result is a magnificent blend of real demands and Cattin's inherent magic. The line includes women's watches (quartz and mechanicals) and men's watches (mono- and two-pusher chronographs, and dual times that are automatics or mechanicals with Concepto movements) ranging from about $2,500 to $10,000. There are also superb 10-piece limited-edition tourbillons priced upwards of $170,000.
Ok, so, nitty gritty out of the way, let's talk design. MRC is Rodolphe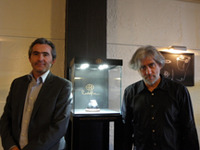 through and though. The round watches feature ball lugs at all four corners that are either textured or patterned, or diamond- or gemset for superb design and elegant appeal. The tonneau cases feature inlaid moveable ergonomic lugs at all four corners – again objects of art more so than functional lugs. The men's pieces are impressive architectural works. The women's pieces are beautiful, clean designs – that consumers will most likely be trying on and wearing out the door.