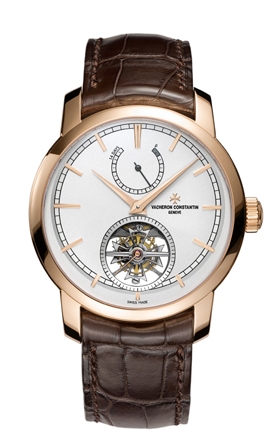 Complete with the Hallmark of Geneva, the new Vacheron Constantin Patrimony Traditionnelle Tourbillon offers an amazing 14 days of power reserve. Created in pure watchmaking classic beauty, the timepiece houses the new VC Calibre 2260 – the first tourbillon to boast 14 days of power reserve and the brand's first to be approved according to the new Hallmark of Geneva criteria.
In order to provide a full 14-day power reserve, the new Vacheron Constantin Calibre 2260 is equipped with four barrels mounted in coupled pairs. They are all connected and all unwind simultaneously, but naturally four times slower than a single barrel. The four barrel-springs amount to a total length of around 2.20 metres and each enables approximately 13 development rotations, all in a calibre whose diameter is of only 12 ¾ lignes (29.10mm)! Other than the practical aspect of this power reserve, these barrels guarantee a longer stability in time.
The 231-part movement features two large bridges to enhance the precision of the watch. These bridges are lavishly engraved and vanished. The tourbillion carriage is inspired by the brand's signature Maltese Cross and provides a showcase for the exceptional level of finishing of each movement part, including a number of interior angles, all naturally hand-bevelled. The rounding off of the tourbillon bar alone takes over 11 hours of manual craftsmanship to achieve an optimal effect. The mechanical hand wound watch is crated in 5N pink gold.