The newest chronographs (watches equipped with a mechanism that makes it possible to measure continuous or discontinuous intervals of time) on the market take fraction-of-a-second timing to new heights – especially in the case of the all new concept watch from TAG Heuer – the Mikrogirder.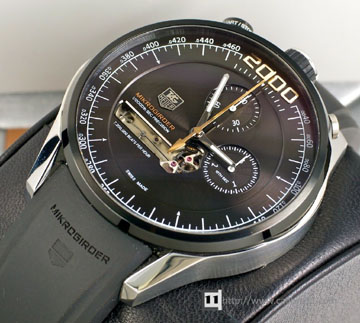 All new, the Mikrogirder 2000 Concept watch offers split second timing to the most hair-splitting degrees, and, according to TAG Heuer is a true indication of where the brand is headed with its engineering prowess. A breakthrough in high-frequency performance, the Mikrogirder features advanced mechanical engineering that with a beam/girder regulator system (visible on the dial) that beats all of its TAG Heuer predecessors in timing to fractions of a second. This Concept chronograph times to 5/10,000th (1/200th) of a second – making it about 250 times faster than an ordinary watch. What's more, functioning at 1000HZ, it essentially vibrates at 7,200,000 beats per hour.
The Mikrogirder is equipped with a dual frequency system that ensures precision through two independent chains. The high speed is on demand, reducing wear and tear on the watch. Additionally, readability is optimized. The smallest fraction of time is displayed on a central hand that does a complete revolution around the dial 20 times per second. However, three separate scales allow for quick and easy reading of the 5/10,000ths or 1 /2000th of a second. This concept watch is an incredible experience to conceive of and to see in action. Now – getting one… we have to wait for the concept to be translated to production.