Last year, and throughout the past 12 months, we have regularly brought you masterpieces from Cartier – true artisan works that not only underscore the brand's technological prowess, but also its amazing abilities with the Artistic crafts. This year is no exception.
Among the highlights: the Santos-Dumont XL watch in white gold with an amazing gemstone mosaic horse motif dial; the Tortue watch with cockatoo motif engraved of mother of pearl, with an enamel background; the Rotonde de Cartier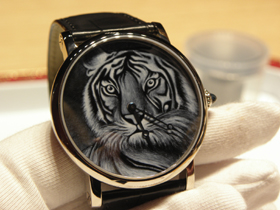 42mm white old watch with enamel grisaille tiger motif. In this watch the black is painted on first and then the white is etched out. Each of these beauties is a limited edition piece and is unique.