Art is a very subjective field. There's no getting around that. But there is a local Pennsylvania artist whose talent never ceases to amaze me. Deborah O'Rourke works in many mediums. Her oil colors and water colors are extremely inviting. They offer a depth and dimension that few can capture – and a realism that tugs at the heart. But her alluring porcelain paintings – whether tiles, place settings, pitchers, or entire table tops – are, to me, the most enriching of all.
O'Rourke displayed her china and demonstrated her porcelain painting at the Franklin Mint Federal Credit Union in PA last night for a host of eager art lovers and collectors. If you weren't there, you missed out.
O'Rourke has spent more than 25 years as an accomplished porcelain painter – hence the result is always a captivating blend of smooth colors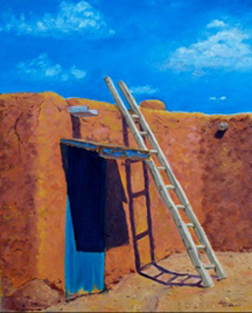 with high contrasts and a clear sense of light and transparency. For those who know porcelain painting – it is a series of paintings and firings – during which anything can happen: colors burn away from the intense heat, bubbles can raise up, dust can mar a surface. O'Rourke's porcelain is flawless. It is superb, full of rich dark hues rarely attained in porcelain and ripe with shadows, tones and a realistic quality that leaves one staring at a scene for a long time, or at least continually coming back for another look. I know. I own several pieces, including a huge multi-tile giraffe wall hanging that is so exacting in terms of colors, lights, shadows and shapes that I feel I could reach out and be touching the real thing. O'Rourke draws on her love of nature, and her travels around the world to influence her painting. Her favorite subjects include the American Southwest, Ireland and nature in general.
O'Rourke's work is on display at the Bryn Mawr Trust Bank in PA throughout the month of February. If you miss it – too bad for you! I hate to say you can visit her website for a look at her work, because the flat one-dimensional presentation just doesn't do her justice. You can visit there, and even buy from there (www.deborourke.com). But better yet – find a local gallery to see some of her work, or visit her at another event!