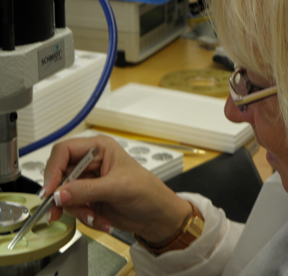 Everyone who wears a mechanical watch should have the opportunity to walk a watch factory and even try their hand at watchmaking. It is a truly humbling experience. Having been in this industry for more than 26 years, I've had the opportunity to visit many a hallowed hall of watchmakers. I've also, over the years, taken several watchmaking classes and toyed around with taking a few calibers apart.
This past week, though, when I was in Switzerland traveling with Piaget, I had the opportunity to work on putting some of the tiniest watch jewels into a movement. The watch jewel is generally a synthetic sapphire or ruby – an extremely durable material – that is used to reduce friction in the watch's movement. Well let me tell you, the experience was fun and interesting.
Every ruby is put in place using nothing but a tiny tweezer and a microscope. I worked with rubies that were so miniscule you could barely see them. To place two rubies took me several tries, as my dexterity is not anything like that of the very patient young woman watchmaker who was demonstrating for me. It took me a couple of minutes – the same time in which she could place many rubies into the watch. It gives an all new perspective on that mechanical movement.