Looking for something to do that is great fun and maybe even informative? Plan on going to Philadelphia for a weekend – and try to be there on December 10, when an exciting new exhibit makes it debut at The Franklin Institute.
Giant Mysterious Dinosaurs is set to premiere December 10, 2011 and run through April 15, 2012. Giant Mysterious Dinosaurs showcases two dozen humongous actual skeletons, dinosaur recreations and full-sized robotics. The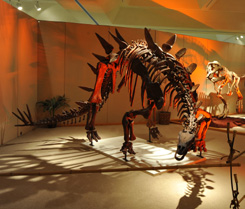 exhibition includes the largest dinosaurs to be displayed in this country, some as long as 70 feet — excavated from such remote regions as Patagonia and the Gobi Desert of Inner Mongolia. The exhibition also lets visitors get hands-on by going on a dino dig and handling real fossils.
The spectacular collection belongs to the world's leading dinosaur collector, Don Lessem. "Dino" Don, a Philadelphia area resident, has excavated and re-created dinosaurs from Argentina to Mongolia, including the world's largest meat-eater and plant-eater. He was advisor to the movie Jurassic Park, and has written more than 50 books for children.
This should be a roar!