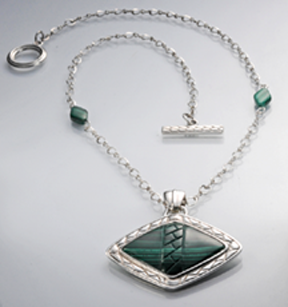 Peruvian SpiritJewelry Tales of South American Silver is a design experience that translates magical themes, legends and materials of ancient civilizations into alluring contemporary jewelry. Embodying romantic looks, the jewelry blends sterling silver with Earth's most precious gems from South America.
Creative director Marco Vidal finds inspiration every day in his native Peru, appreciating its numerous natural resources, observing historic icons and listening to nature: "We create jewelry that allows a woman to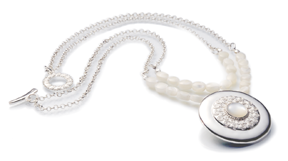 Ancient Treasureunveil her own transcendental beauty and power."
Jewelry Tales, new on the US market – offers six entrancing collections that embrace nature and femininity. Crafted in sterling silver — the precious metal closely associated with Peru, which traces its metalworking back more than 2000 years ago to the Incas, who used silver for their precious objects — the jewelry collections include Peruvian Spirit, Minerales, Rainforest, Ancient Treasures and the newest Spa series. Each incorporates just the right amount of gemstones and silver – with beautiful accents
Rainforest appropriate for the collection. One gemstone-beaded bracelet in the Rainforest collection, for instance, may have sterling silver butterflies, birds or flowers adorning it gracefully, while a necklace in another collection may have antiqued and engraved finishes to replicate an old-world charm.
Each piece is intricately enhanced by special details such as clasps, beads, end-charms, whimsical touches and delicate spiral wire workings. Colored stones include carnelian, celestine, rose quartz, pink opal, leopardite, sodalite, mother of pearl, turquoise and other alluring beauties – offering truly timeless elegance. These are wonderful gems that easily go from day to night and from office to outdoor chic and sexy summer activities.