He started a Revolution and ended up a King – that's Elvis Presley. Young, talented, handsome and humble in his youth, this small-town Tennessee boy grew up poor – but rich with a voice that was like velvet. What's more, he had the moves – a little soul, a little blues, some country and a sound all his own. From a start at Sun Studio to his rise with RCA, Elvis Presley changed the face of culture, music and society.
In his youth he would stare in to the front window of Lanksy's (a high-end men's clothing store in Memphis). When the owner came out and invited him inside, Elvis said he had no money, but when he got rich he was going to come back and buy the store. The owner replied, "Just come back and buy from me." And he did. Elvis was the first to wear pink and made a statement with it. He bought most of his clothes from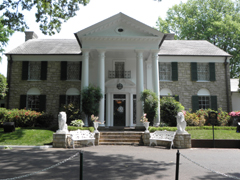 Lansky and was an amazing dresser – complete with all the accessories.
Later, when he bought his home—Graceland Mansion – in Memphis, he appointed it with all his favorite concepts. From the Jungle Room (complete with animal carved chairs and sofas, to a brick waterfall wall), to the Music Room (art deco designed) to the stunning living room with stained glass peacocks, the beloved home was filled with beautiful accessories. Elvis even built his own racquetball building on the premises, put in a swimming pool and surrounded it with a meditation garden.
Today, one can visit historic Graceland in Memphis, tour the museum that holds his collection of more than 33 vehicles (including motorcycles and rare cars such as the Stutz Blackhawk), and even climb aboard his customized jets – one of which holds a living room, conference room and private bedroom. This is a step back in time that quickly reminds you of the King, his influence on music and his captivating roll in fashion, flash and style.