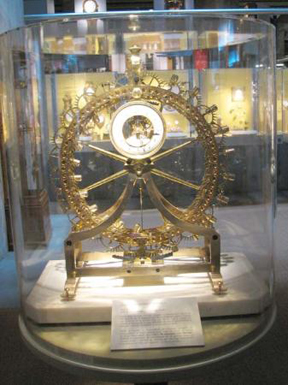 Exhibit at the clock museum. Watch lover visiting Switzerland? If so, most likely you'll want to schedule a visit to the mecca of Swiss watchmaking, La Chaux-de-Fonds. It is a quick stop, but many brands call this district home. The capital city of the 1,000-meter-high district of La Chaux-de-Fonds, is the canton of Neuchâtel– where many brands took roots hundreds of years ago. Winter paralyzed the local farmers of yore, who had little to do with their time when the snow set in. Watchmaking provided a great hobby, and then became a great tradition. Among the brands with roots in this region are Jacquet-Droz, Girard-Perregaux, Omega, Movado, TAG Heuer, Greubel-Forsey and a few others.
Today the watchmaking city of La Chaux-de-Fonds (and Le Locle) has received recognition as a UNESCO World Heritage Site because of its exceptional universal heritage and value. The town, which suffered extensive damage due to fires in 1794, wherein it was pretty much decimated and was totally rebuilt, is one of the few that still situates residential housing side-by-side with artisanal workshops. In fact, the town is an odd mix of modern glass and steel structures and old tile-roofed homes. Before going, try to slate a quick watch factory visit. Also, while there, the watch museum is a must.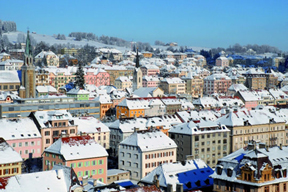 Since the city and its surrounding canton remains one of the most lively and important Swiss watchmaking centers, it is the home of the Muse'e International d' Horlogerie (International Museum of Watchmaking). The museum showcases the history of timekeeping projects and products, from sundials to water clocks to table clocks, wall clocks, pocket watches and more. It is one of the richest collections in Switzerland with more than 4,500 exhibits. In the park outside the Museum is a giant tubular-steel carillon clock with digital readout that was built about 30 years ago. It chimes the time every quarter-hour.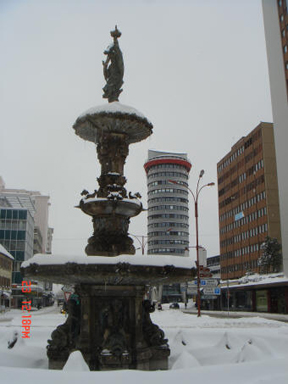 La Chaux-de-Fonds is also rich with art (the Muse'e des Beaux-Arts is an impressive neo-classical building with a collection of Van Gogh, Delacroix and Renoir, among others), architecture (with many buildings designed by La Chaux-de-Fonds architect Le Corusier, nee Jeanneret), and even automotive heritage (this city is the birthplace of Louis Chevrolet (born 1878), founder of the Chevrolet Motor Car Company).