You've heard of carfax – the place to go to find out all about that previously owned vehicle you are thinking of buying? Well, for watch lovers, now there is WatchFacts.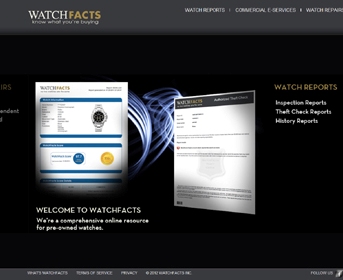 WatchFacts has been formed as an information technology company focused on developing and providing information for the luxury watch industry on a digital platform. WatchFacts.com employs innovative technology via an API interface to provide reports and information to watch retailers and consumers. The system is thus able to provide customers with an algorithm-generated "WatchFacts Score," a measurement of any watch's current condition and valuation, further illustrating WatchFacts.com's trademarked assertion that "No Two Watches are the Same."™ Experienced and new purchasers of pre-owned timepieces can feel 100% secure in WatchFacts's guarantee of authenticity and service.
WatchFacts.com will exclusively offer users access to historical information (including service journals and ownership records), "Real Time" electronic theft check, nationwide manufacturer authorized repair centers, and innovative proprietary software system, Inveniam. Founded by John Cormier, a Wall Street business mastermind and watch connoisseur, WatchFacts is posed to re-imagine the second-hand luxury space.
NOTE: It's new; we haven't had a chance to utilize the services yet—but it's definitely an interesting platform.