By Nancy Olson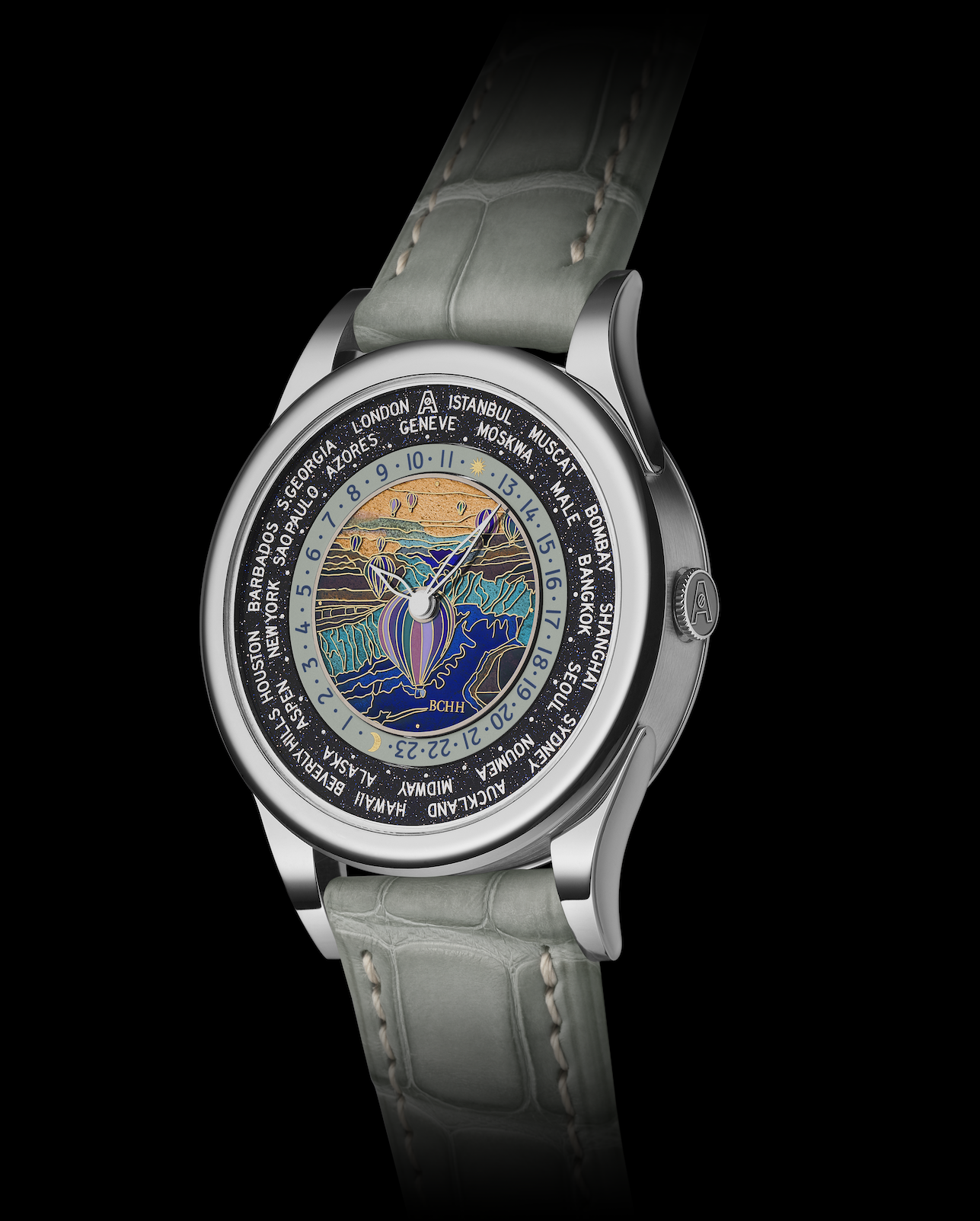 The distinguished collaboration between Andersen Genève and Benjamin Chee Haute Horlogerie (BCHH) has resulted in a truly marvelous timepiece reflecting the unique competency — both artistically and mechanically — of each brand. The new platinum-cased BCHH Celestial Voyager has a fascinating story to tell — especially with its incredible Sunset over Cappadocia dial. But as soon as you're done reading about the watch, be sure to read on to learn more about the masterminds behind it.
BCHH Celestial Voyager
The BCHH Celestial Voyager is inspired by ANDERSEN Genève's world time watches, and considering its many notable details, it's hard to decide where to begin in telling its tale. So I'll start with the dial, which is a masterful cloisonné enamel tableau handcrafted in La Chaux-de-Fonds. Its "Sunset Over Cappadocia" dial is meant to evoke the romance of travel, with hot air balloons depicted floating over a Turkish landscape. White gold skeleton hands mark the hours.
More than three feet of fine gold wire is used for the cloisonné décor and over 20 individually fired colors of enamel are evident. The decoration on the solid gold dials is uniquely patterned, making each a one-of-a-kind tour de force. The name "Cappadocia" is composed in rose gold on the city ring, thus setting it apart.
The multi-layered dial features the aforementioned cloisonné at its center, an aventurine city ring—which may be customized—and a 24-hour ring. The watch's exhibition case back has a decorative mother-of-pearl ring displaying the names of the collaborators surrounding a view of the movement.  Amazingly, the watch measures just 10.1mm in thickness.
The exquisitely hand-decorated world time movement is a piece of art in itself, with special polishing and engraving evident. Delicate anglage and Geneva stripes point to the detailed finishing employed in its construction. ANDERSEN Genève's signature Bluegold Rotor is another noteworthy hallmark, comprising a guilloche pattern that may be customized.
The 37.7mm hand-finished case has fine satin brushing on its sides and polished "ailes d'aigle" (eagles' wings) lugs. The symmetrical crowns at 3 and 9 o'clock include both ANDERSEN and BCHH engravings; the left crown adjusts the city ring while the right crown sets the time.
The BCHH Celestial Voyager is fitted on a hand-stitched alligator leather strap. Each of the 10 pieces in this limited edition is priced at $58,800 CHF.
About Andersen Genève
Andersen Genève has garnered the attention of watch collectors worldwide since it founding by Svend Andersen in 1980. After having spent nine years at Patek Philippe, Andersen launched his career as an independent watchmaker and was soon inundated by requests for bespoke timepieces. Complicated watches are a forte, with annual calendars, perpetual calendars, jumping hour calendars and world time watches making debuts within his opus. One of his most complicated watches is the Secular Perpetual Calendar.
Andersen has gained recognition for a number of his accomplishments in the watch world. Among them, he developed the smallest calendar watch ever produced and was awarded by Guinness World Records. In 1994, his "Mundus" was awarded for being the thinnest world time watch ever made. He is known for his automaton watches and one-of-a-kind masterpieces. He is also one of the founders of the prestigious Académie Horlogere des Créateurs Indépendants (ACHI), which debuted in 1985.
About BCHH
BCHH was founded in 2019 by watch collector Benjamin Chee, conceived from a dream to meld traditional haute horlogerie with artisans eminent in classical craftsmanship. Additionally, the brand is part of his larger mission to put his home country of Singapore on the map of haute horlogerie. Chee is also the founder of Celadon (2012) and Milléchron (2018).
The BCHH Celestial Voyager was conceived in association with Andersen and produced at theANDERSEN Genève atelier in Switzerland.