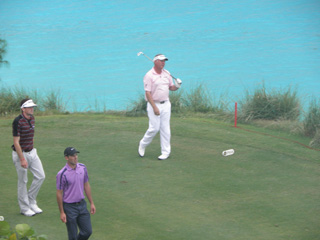 Clarke at tee, left-right: Bradley, SchwartzelBack in July, Omega announced its partnership with the Professional Golfers' Association of America (PGA) for a five-year sponsorship (and Official timer) of the PGA Grand Slam, which just took place Bermuda last week, and which Atimelyperspective attended with Omega. The wonderful two-day golf Grand Slam event brought the four winners of the four major tournaments this year together on one course for a final round. We witnessed the passion of Rory McIlroy, Charl Schwartzel, Darren Clarke and Keegan Bradley, who all teed off at the Port Royal Golf Course under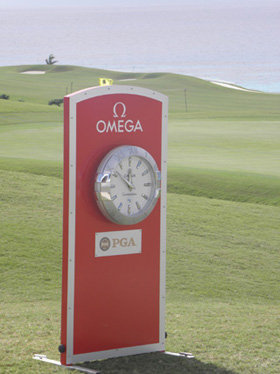 blue skies and with a backdrop of even more breathtaking blue water. While the second day brought higher winds and tossed the game a bit, it was an interesting and enjoyable tournament. In the end, Keegan Bradley won, at 4 under for the 36-hole tournament — a shot ahead of Schwartzel. McIlroy finished third and Darren Clarke came up 9 over for the two-day total.
Another important number at the tournament was six – the number of red and silver Omega clocks that were keeping time throughout the two-day event. For Omega, these clocks have symbolized a long and important timing history – of sports of all sorts, including the Olympics. Golf is also not a newbie in the brand's stables. In fact, Omega has among it ambassadors, golfers Sergio Garcia and Michelle Wie, as well
as Greg Norman. Additionally, the brand has sponsored such important tournaments as the Dubai Desert Classic, the European Masters and others.
Celebrating its expanded involvement with golf, the brand releases the new 41.5mm brushed and polished steel Seamaster Aqua Terra "Golf" watch. To mime the bright green golf courses of the championships, Omega has created the Seasmaster logo in verdant green on the black dial. The watch houses the Co-Axial caliber 8500 that offers extreme
Keegan Bradley, day 2, 13th hole precision and longer servicing intervals. The hour hand is adjusted independently of the minutes and seconds hands for easy change when traveling. It is equipped with Omega's patented bracelet, is water resistant to 150 meters and is guaranteed for four years. It is a sleek, chic timepiece, especially at just $5,500 retail. (Oh, and stay tuned for upcoming interviews with the players and Omega execs.)