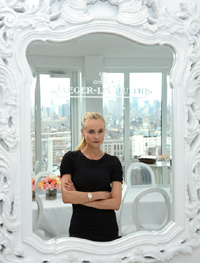 In an exclusive interview with ATimelyperspective in New York City not too long ago, actress Diane Kruger talked to Editor-in-chief Roberta Naas about time, watches and – more specifically –the newest Jaeger-LeCoultre Rendez-Vous collection.
This video is a Not-Yet-Released film created as the result of this personal interview. It will be released in a few days by Jaeger-LeCoultre – so you are seeing it here and nowhere else – FIRST.
To  Kruger, German-born supermodel and film star, a watch is something understated, something to be discovered. Kruger, who has had a five-year relationship with Jaeger-LeCoultre, is the face behind the brand's launch of a women's watch line called Rendez-Vous.
"I love the idea of the Rendez-Vous, the secret," says Kruger, who has played many different personalities on film. "In my professional life, it's very important to be on time. Also, I am German, so it's part of my DNA to always be on time. It's a funny thing because in my private life, I actually like to forget about time."
You can read more about the sexy yet classically elegant, the Rendez-Vous line here and here. 
Meanwhile – watch this exclusive video of her discussing the new watch, the brand and time.